Be a Part of the Hottest New Party-Craze Yet!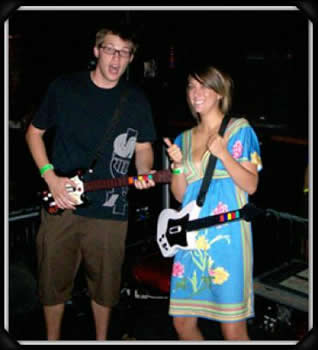 Edge Sight & Sound has brought Oklahoma the newest private party and night club entertainment. Play every version of Guitar Hero AND Rock Band on our jumbo video screens while hooked into a complete concert style sound system making it just like the real deal! The star of the show is YOU and YOUR FRIENDS! We provide you with all versions of the Guitar Hero AND Rock Band so you and your guests don't have to choose.
We can supply everything you need:
Game Consoles
Wireless Guitars
Wireless Microphones
Complete Drum Sets
Jumbo Video Screens
Super-Bright HD projectors
Sound Activated Party Lighting with Fog Machines
Choice of any of our state of the art sound systems
Complete music collection to play to keep it fun while you change out players
And of course a great DJ to act as MC and keep the party moving!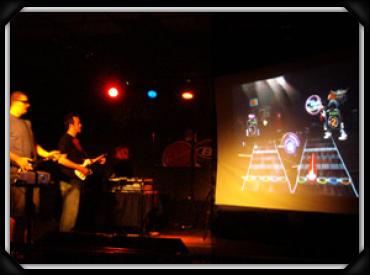 Have a blast!
Challenge your friends, coworkers or even strangers and see who gets the highest score. Are you a first-timer? Then just give it a shot while your friends laugh…it's always fun! EDGE Sight & Sound Guitar Hero and Rock Band events are for all ages too. From birthday parties and weekly bar events to team building functions for corporate events, this is the perfect addition to spice up the party! We are DJ's after-all so you can count on great music between games, before and after the event delivered on our crisp, clear and powerful sound systems.
Below are just a few ideas of the occasions perfect for a Guitar Hero & Rock Band party.
Guitar Hero & Rock Band Birthday Party
Have a Guitar Hero Birthday! You've never played Guitar Hero or Rock Band like this before. You'll be the envy of all of your friends! Setup options include hours of fun that can be Free-Play for everyone or a Challenge competition with the winners receiving awards. Choose from a full array of instruments and enjoy our huge video screens!
Guitar Hero & Rock Band Ultimate Challenge Event
This is the Ultimate Guitar Hero event for your school, church, club, festival, or any other event with Free-Play for everyone or a Challenge competition with the winners receiving awards. We can even supply the prizes! You can count on it sounding great with our professional sound systems (the same ones we use for weddings and even bands!).
Guitar Hero & Rock Band Corporate Events
These events have become a very unique, effective and extremely fun team building activity for corporate functions. That's right, even adults love playing the world's number 1 game, too! After all, almost all of the music is from the 70's and 80's bands. Choose fun Free-Play for morale building or have a Challenge competition to build teamwork. Everyone has to work together or it just doesn't sound good. We can bring everything including awards for the winners.
Bar and Night Club Guitar Hero & Rock Band Events
Does your bar or club have an off night? Much like Karaoke, which we also provide (hint, hint), Guitar Hero and Rock Band events have been proven to pump up dead nights, thereby increasing your sales! You know you host the primary age groups and personality types that love this game. We bring everything including the sound system, background music for between singers and the MC to keep everyone partying! Do you already have a sound system or perhaps a video screen? We have special discount packages available for use of in-house equipment. Be sure to ask about our special introductory offer for getting your weekly event going.

Guitar Hero, Guitar Hero II, Guitar Hero III and all related titles and logos are registered trademarks of Activision Publishing, Inc . Rock Band, Rock Band 2 and all related titles and logos are trademarks of Harmonix Music Systems, Inc., an MTV Networks company. PlayStation, PS3 and all related titles and logos are registered trademarks of Sony Computer Entertainment Inc. Microsoft Xbox 360 logo is a trademark of Microsoft. Wii and the Wii logo are trademarks of Nintendo. All other trademarks and trade names are the properties of their respective owners. All rights reserved.