We have the Video Screens and Projectors it takes to make an IMPACT.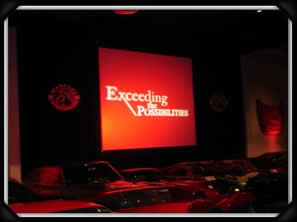 Our video screens are the perfect add-on for school dances, proms, parties, weddings and corporate events. We use high-power, bright, fine resolution projectors with our jumbo screens made of professional grade rear projection material to ensure the highest quality video and presentation experience possible.
Spice up your next dance party with our jumbo video screens playing your favorite music videos right next to you on the dance floor!
We feature some of the most innovative video screens available. From high quality Da-Lite rear-projection video screens to edgy stretch video screens on trussing like the one at left, you can be sure we can match the mood of your event.
Considering a Video Dance Party? Our collection consists of thousands of high quality music videos that we continually update ensuring a truly cutting-EDGE experience. We also offer live video camera support allowing us to project you and your guests up onto our jumbo screens in real time.

Need video projection screen support at your next corporate event? We can fully meet your needs with our extensive inventory of projection equipment. When you have important information you need to share with the rest of your company or guests, count on Edge to deliver the best quality equipment available.