Karaoke can spice up any event!
Karaoke is back and more popular than ever!! Add-on professional Karaoke to your DJ package to make your next event stand out from the rest. Karaoke is an excellent entertainment choice for your next holiday party, school dance, birthday party, reunion, corporate event or private party.
You'll be the star; we just make you shine!!

Edge Sight & Sound has the area's largest and most up to date karaoke collection with over 70,000 tracks in a number of genres including pop, country, rock, blues, oldies, alternative, show tunes, duets, children's favorites, and we just keep adding more!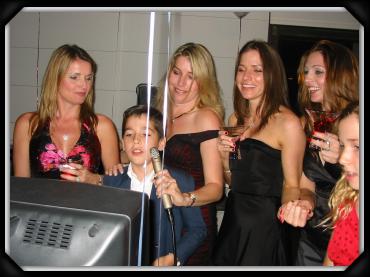 You and your guests can sit back, enjoy the show, let us know what songs you want to sing, and we'll do the rest. We offer multiple microphone support for large group ensembles and song lyrics are displayed on our flat-panel LCD displays. We use only the highest quality microphones and equipment so that you will sound your very best!